Oct 24, 2019 2:00 PM By: Scott Hayes
Wesaketewenowuk. The seven-syllable Michif word is the very apt title for Dr. Judy Iseke's new short documentary that will be shown Saturday at the Musée Héritage Museum. The screening is part of a celebration of Métis culture and the launch of her new internet resource called Our Elder Stories.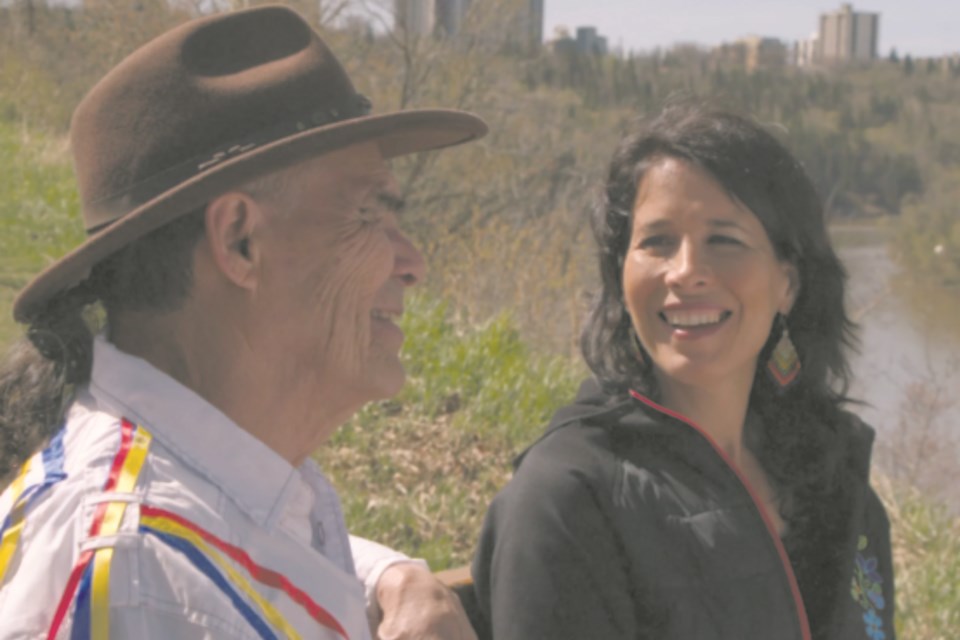 "Wesaketewenowuk … it means like roots growing up. A fire has gone through and it's burned everything. There's nothing left, or it seems like there's nothing left, and then new life begins to grow from beneath, from the roots," Iseke began.
"Tom uses that as a metaphor for Métis people: we've come through a fire, the fire of colonization, and yet, we're still here. We're resilient. We're still hanging on to our culture and our language sometimes by a thread, but we're still here."
Tom is Elder Tom McCallum, who is joined by singer and songkeeper Andrea Menard in the 14-minute film. The two talk about Métis resilience and the importance of using storytelling and song to keep the endangered Michif language alive and thriving.
Director Iseke said she is fascinated by language and the essential role it plays in cultural development and the human condition. She has been working with Métis Elders for more than two decades with the goal to rejuvenate Michif, the language of the Métis people, yet it is now spoken by fewer than two per cent of that population.
The two worked together to develop a new Michif language song, one that was based on based on McCallum's Elder stories and that Menard wrote and performed. It's a beautiful collaboration and the film is indeed beautiful and inspiring with her voice and his jig, scenes of nature playing throughout to reinforce that theme of resilience.
Iseke hopes to use Wesaketewenowuk as just one tool of a larger internet-based resource called Our Elder Stories. Found at ourelderstories.com, anyone can access other videos featuring stories, films, and songs, along with other learning mechanisms and supports about the Michif and Cree languages, and other publications and news.
Language, she said, is the key to culture.
"Because our language is so threatened, I wanted to track the language and record the language, but I also wanted to give Elders a chance to talk about their lives, their stories, their communities, their families. They certainly did that."
The comprehensive project, she continued, has already taken many years and has had no shortage of participation. The website only offers 170 recordings but she has a treasure trove of many others that she created along the way.
"What we did is we translated first all the stories, because I'm not a speaker of this language. Most people my age are not. Most of our speakers are in their 60s and 70s and older. We recorded all their stories: there were sets of questions that I gave to the Elders ahead of time and then they told stories around those things. Then we translated all of those stories and then transcribed them all."
It was a tough project as each of the Elders who she recorded speaks a different form of Michif, though they're all based on Cree, she said, adding it was fascinating work but very time-consuming. It meant having Elmer Ghostkeeper act as the live translator, but because of the nature of Michif, the exact translation can never be fully realized: you have to understand the language. This meant the transcription for each recording offers a very close approximation to what was being said.
"We wanted the richness of the Elders' stories at least to come across."
The website offers stories that Iseke selected based on a variety of factors, including audience interest and length, and what she thought would be most accessible to the broadest sector of the viewing audience. There are other recordings that she had to hold back, perhaps for future release or for other projects.
"Some of these Elders are very powerful spiritual leaders and they told some very important spiritual stories, but some of those we chose to leave out because we felt they were maybe not appropriate for an internet space," she continued.
She hopes Our Elder Stories will lead to a resurgence of interest in Michif and that someday more Métis people will speak the language than those who don't. The website is designed to be accessible, engaging and interesting enough on a variety of subjects to keep people coming back for more.
"It helps people listen to the language. Hear our stories. Hear the stories of the Elders, and enjoy the many lessons that they provide. There are sections on teachings. There are sections on teaching the language, which is a different topic. There are stories about storytelling, and it's importance in our communities. I think there's a rich diversity of stories and we tried to choose the ones that are in the most compelling and most interesting. There's a whole section on humour, which is hilarious."
The event runs from 2 to 4 p.m. on Saturday, Oct. 26, at the Musée Héritage Museum. Attendance is free.
Read the original article here: https://www.stalberttoday.ca/local-arts-and-culture/michif-language-comes-alive-through-film-and-new-resource-1763281